Someone wrote to ask how best to use several oils, blends, and products. I am sharing my answer with all of you . . .
Gary Young told us that when someone asks him "How do I use the oils?", he may say . . .
Pick up a bottle
Drop 2-3 drops into your palm
Rub palms together
Cup hands over nose, and breathe in deeply many times
It may sound silly, but ALL of the Young Living essential oils and blends can effectively be applied in that way. As I mentioned earlier, FOCUS and INTENT can magnify the effects of your oils. Be sure to pay attention to what you are thinking as you apply them.
When we also add topical application, we may further enhance the effects. Oils can be applied anywhere (unless they are considered "hot" oils which would be those that could potentially cause skin sensitivity). However, there are places where absorption is more rapid than others. Ones I particularly like are:
Bottoms of feet
Wrists
Around the navel
Over the heart
Rims of ears
Base of skull
NOTE: Bottoms of feet are the safest place on the body for application in terms of potential skin sensitivity
Is it necessary to select only one application?
NO!!!
Why not apply topically in your desired location and then inhale?
You can also enjoy the benefits of inhalation by diffusing and even more concentrated inhalation application with the AromaDome.
Now, for the reasons I might choose to use the oils and blends in the question I received . . .
SACRED MOUNTAIN: I find that this blend supports me in staying grounded and balanced. Therefore, I actually apply it every single day. I even use it under my arms instead of deodorant.
NORTHERN LIGHTS BLACK SPRUCE: "Black Spruce" is one of the 4 single oils in Young Living's most popular blend, VALOR. Many of you know that VALOR has been out of stock for a vey long time due to the unavailability of suitable black spruce essential oil. In fact, Gary Young searched all the way up to northern Canada for black spruce trees, purchased land, and built a distillery so we would have a supply of this precious oil! When the essential oil for this farm was distilled and tested, the scientists found that the chemistry surpassed any other that had been tested. This is our NORTHERN LIGHTS BLACK SPRUCE. I love to apply it on my wrists and over my heart and just inhale it, experiencing it remarkable energy. The spiritual energy of the land on which this farm and distillery are located is very high and is captured in the essential oil itself. Many feel that they are transported to a beautiful place when they use the oil. On a purely physical level, all conifers have the potential to soothe muscles and joints and ease breathing.
ROYAL HAWAIIAN SANDALWOOD: This single oil is one of the most coveted oils of all. Sandalwood has been studied for many years for its positive effects on skin – moisturizing, anti-aging, and regenerating. It has also been used in incense for thousands of years to enhance a spiritual experience. The chemical constituents thought by scientists to be key ones in "sandalwood" are far higher in ROYAL HAWAIIAN SANDALWOOD than in other varieties. This particular variety grows only on "the Big Island" of Hawaii. My personal preference is to use this essential oil on my face (where I can smell its intoxicating aroma) and over my heart before cupping my hands over my nose. I love to use it at bedtime in addition to during meditation as I find I always have restful sleep and awaken feeling refreshed.
RELEASE: This is a favorite of mine as I always feel I have things to let go of to move forward. I like to apply it over my heart and over the liver (upper abdomen on the right side) and colon (lower abdomen) . . . Kin other words – over the entire abdomen.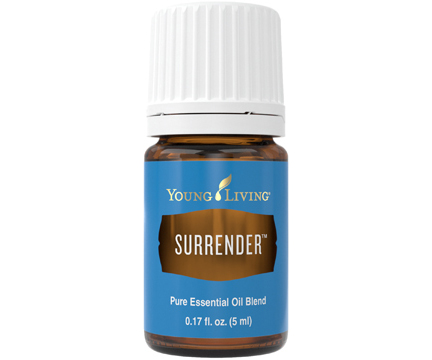 SURRENDER: This blend is an excellent choice for anyone ready to ALLOW things to unfold rather than attempting to "plan" or control the outcomes. Often, I have found that what unfolds when I am willing to TRUST and surrender the outcome is far, far greater than anything I might have planned myself. For instance, I could never have envisioned a "plan" for what has transpired since I moved to Asia 11 years ago. I had a "huge' dream of sharing Young Living essential oils in Singapore. The way that it unfolded is still beyond my belief – and now the opening of Fuller Life Bali astounds me every single day. How do I use this blend? OVER MY HEART and all of my chakras. As mentioned above, I find that the INTENT while applying is critical. I could likely apply a whole bottle results as 2-3 drops with FOCUS and INTENT.
NOTE: I love to LAYER more than one essential oil or blend. However, ONE applied with FOCUS and INTENT may be more valuable than many that are just put onto the body.